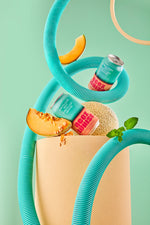 IT TAKES GUTS TO FEEL GREAT
Gut health is the key to your overall health and wellbeing. Scientists are discovering new evidence every day on the importance of prebiotics in maintaining a healthy gut, and - whoa! - a healthy mind.¹
PREBIOTICS VS. PROBIOTICS
Probiotics are little microbe buddies (living bacteria) that have beneficial qualities for us humans. Like you, your little microbe buddies need food to do their best work. But not any food will do. Enter prebiotics! Prebiotic fibre is food for our gut microbes - boosting metabolism, strengthening the immune system, and improving digestion.²
FIBRE MADE SIMPLE
We know that gut health is crucial to overall health, and most of us are not getting enough fibre. So we created a crushable beverage that tastes great and just so happens to contain a whopping 5 g of prebiotic fibre per can. That's 18% of your daily recommended fibre intake.³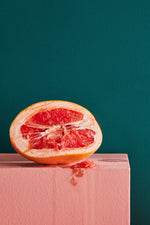 INGREDIENTS - MEET OUR V.I.P.s (VERY IMPORTANT PREBIOTICS)
Our multi-source prebiotic fibre blend was formulated with a team of food and nutritional scientists to be very gentle on the digestive tract. No troubles, just bubbles!
PREBIOTIC PLANT FIBRE
Prebiotic fibre is food for our all-important gut microbes. Each can of Geez Louise contains some of the most powerful prebiotics out there.


Fructooligosaccharides (also known as FOS!) 
This unique prebiotic plant fibre comes from sugarcane. It stimulates the growth of beneficial bacteria and can increase the absorption of magnesium and calcium.⁴


Isomalto-oligosaccharides (also known as IMO!) + Resistant Dextrin
These exceptional prebiotic fibres come from pea/tapioca. They feed our beneficial microbe buddies to support healthy digestion and a thriving gut microbiome.⁵